Why should you choose us?
Fame Scripts was founded in May 2020, and ever since then we've constantly been striving to improve the user experience. We have years of experience in bringing the best rust scripts straight to you, no hassle, no messy setup, and no recoil. With the smallest banrate of any major rust script provider, the longest list of features, and the first to update to the new recoil system, Fame Scripts are the choice for everyone!
Fame Scripts is fully compatible with the new recoil system.
Our flagship product is our No-Recoil script, Fame Scripts. Built on the ethos of "No Recoil, No Worries", every line of code in our program is typed with stealth in mind, using our market-leading ban prevention methods to deliver a product that sacrafices neither quality or detectability. We believe that customizability is the most important part of any no-recoil script, and we have paved the way in delivering on that promise by establishing one of the most customizable menus of any script, allowing users to play the game however they want, letting the script do all the heavy lifting or just giving a small helping hand.
We are on the forefront of providing updates to our program, with security updates coming out twice a week. We also take measures to future-proof our program, and Fame is currently one of the only products to support both Windows 10 and Windows 11. With Fame Scripts, you know that you won't have to sacrafice your computer's updates to keep scripting.
We also have a robust support team who are always happy to help – if you have any questions about the program or how it works, please open a ticket by joining our discord server at https://discord.gg/DCC8kYWZrU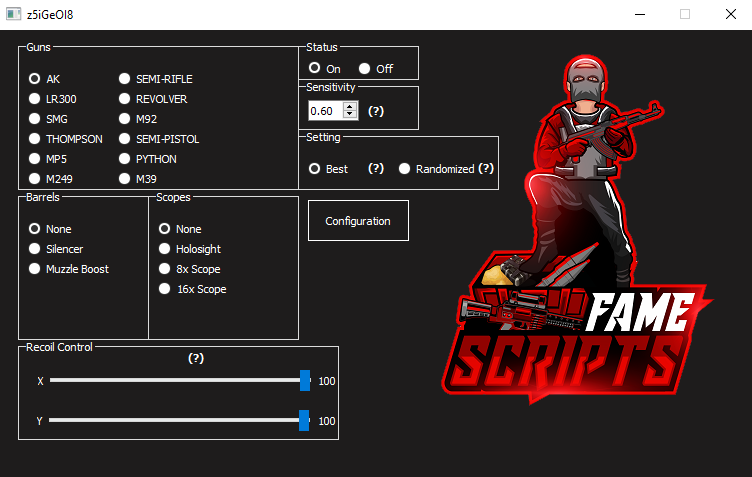 What are Rust Scripts? 
Rust Scripts is a program that is in the grey area of playing legitimately and cheating. Whilst not giving you the massive advantages that full cheats give you, scripts are much less likely to get you banned, and much cheaper, whilst still giving you the significant advantage of having virtually zero recoil.
Why choose rustscripts.com over other providers?
There is nowhere else that the saying "you get what you pay for" rings truer than video game cheats. You have to have a lot of trust in the people who develop your product to put as much effort into it as possible to keep your account and reputation safe. And believe me, we work as hard as possible to do so. We release security updates incredibly frequently to keep our program fresh and undetected. We also employ a vast array of countermeasures to ensure that our program is the pinnacle of safety, without sacraficing a drop of quality. Because of the amount of work we put in, our product is priced higher than some competitors. But, when your rust account and your reputation is on the line, we strongly believe it is worth it.
Are Rust Scripts right for me?

Rust Scripts are built for those who would like to remain anonymous. With tools to hide the program, and settings inside the program to customize how accurate you want your spray to be, this program is perfect for those who want to become a PvP Master or those who just want to fly under the radar. Fame's Rust Scripts work on both Windows 10 and Windows 11. They are also Computer locked, meaning one copy can only work on one PC. Computer lock resets are readily available if you change machines. This can cause some incompatibilities to users who use a hardware ID spoofer, but these can usually be worked around.
Why choose rustscripts.com over free scripts?
Free Scripts are scarcely truly free. Most pre-packaged free scripts are Remote Access Tools (RATs), designed to let hackers get access to your PC, or Bitcoin or Monero Miners, designed to download a tool that will use your hardware to "mine" cryptocurrency using your hardware, which dramatically and reduces the lifespan of your machine. Truly Free scripts are also much more likely to get detected, as their source code is publicly available, so Easy Anti Cheat (Rust's Anticheat Partner) can get ahold of the code, and ban any users they catch running it. RustScripts's source code is heavily obfuscated and virtualized, meaning and that the source code is much, much harder to read, and therefore much harder to get detected.
How Long does it take to receive the program after I purchase?
Instantly! You will find the download and the key in your emails after you have purchased. To be invited to the customer's discord, please contact us on discord or via email.
What emails aren't supported for instant delivery?
i-Cloud, Hotmail, Outlook, Yahoo, web.de, and aol are the biggest ones not supported. The only guaranteed one to work is Gmail. If you use one of these emails, you can email us after purchasing and you will get your code manually emailed to you within 24 hours.
Have any more questions? Join our discord or shoot us an email using the buttons below!
Once you have purchased the scripts, please get in contact with us either by (Discord will have a faster response time):
You can find all our reviews in the Vouches channel in our discord!