Why should you choose us?
Since its inception in May 2020, Fame Scripts has been dedicated to enhancing the user experience by delivering the finest Rust scripts available. Our years of expertise have enabled us to streamline the process, eliminating any complicated setups and providing a hassle-free, recoil-free solution for Rust enthusiasts.
As the leading Rust script provider, we boast the lowest ban rate in the industry, a comprehensive range of features, and a commitment to staying ahead of the curve by adapting to new recoil systems. This unwavering dedication makes Fame Scripts the preferred choice for players seeking a competitive edge in Rust.
Fame Scripts is fully compatible with Rust's latest recoil system, ensuring a seamless gaming experience for our users. Trust in our expertise and elevate your gameplay with the most reliable and secure Rust scripts on the market.
Our flagship product, Fame Scripts, is designed with the guiding principle of "No Recoil, No Worries." Every line of code within our software is crafted with security in mind. We recognize the paramount importance of customization in a no-recoil script, and as such, we have developed one of the most adaptable interfaces available, empowering users to tailor their gameplay experience to their preferences, whether they seek substantial assistance or a subtle helping hand.
At Fame Scripts, we pride ourselves on our commitment to staying ahead of the curve future-proofing our software to accommodate the evolving technological landscape. As one of the few products to support both Windows 10 and Windows 11, you can trust Fame Scripts to seamlessly integrate with your system updates without compromising your gameplay.
Our dedicated support team is always ready to assist you. If you have any inquiries regarding the program or its functionalities, please don't hesitate to email us.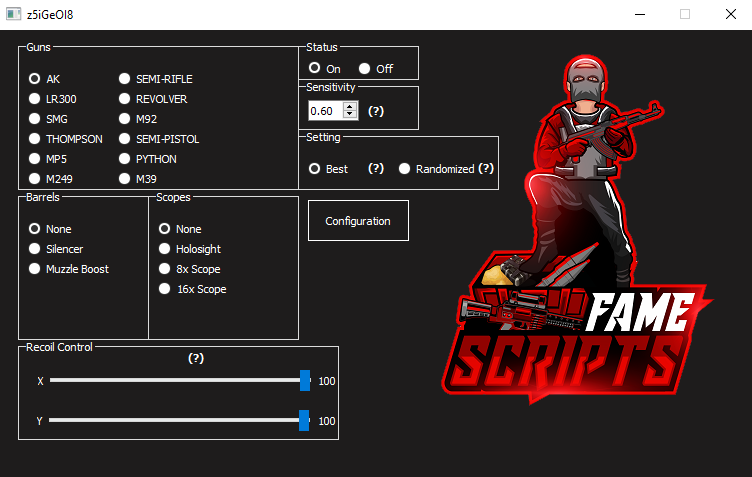 Why choose rustscripts.com over other providers?
We release updates incredibly frequently to keep our program fresh. We also employ a vast array of countermeasures to ensure that our program is the pinnacle of safety, without sacraficing a drop of quality. Because of the amount of work we put in, our product is priced higher than some competitors. But, with everything on the line, we strongly believe it is worth it.
Are Rust Scripts right for me?

Rust Scripts are built for those who would like to remain anonymous. With tools to hide the program, and settings inside the program to customize how accurate you want your spray to be, this program is perfect for those who want to become a PvP Master or those who just want to fly under the radar. Fame's Rust Scripts work on both Windows 10 and Windows 11. They are also Computer locked, meaning one copy can only work on one PC. Computer lock resets are readily available if you change machines. This can cause some incompatibilities to users who use a hardware ID spoofer, but these can usually be worked around.
Why choose rustscripts.com over free scripts?
Free Scripts are scarcely truly free. Most pre-packaged free scripts are Remote Access Tools (RATs), designed to let hackers get access to your PC, or Bitcoin or Monero Miners, designed to download a tool that will use your hardware to "mine" cryptocurrency using your hardware, which dramatically and reduces the lifespan of your machine. Truly Free scripts are also much more likely to get detected, as their source code is publicly available, so Easy Anti Cheat (Rust's Anticheat Partner) can get ahold of the code, and ban any users they catch running it. RustScripts's source code is heavily obfuscated and virtualized, meaning and that the source code is much, much harder to read, and therefore much harder to get detected.
How Long does it take to receive the program after I purchase?
Instantly! You will find the download and the key in your emails after you have purchased.
What emails aren't supported for instant delivery?
i-Cloud, Hotmail, Outlook, Yahoo, web.de, and aol are the biggest ones not supported. The only guaranteed one to work is Gmail. If you use one of these emails, you can email us after purchasing and you will get your code manually emailed to you within 24 hours.
Have any more questions? Email us!

Once you have purchased the scripts, please get in contact with us by emailing